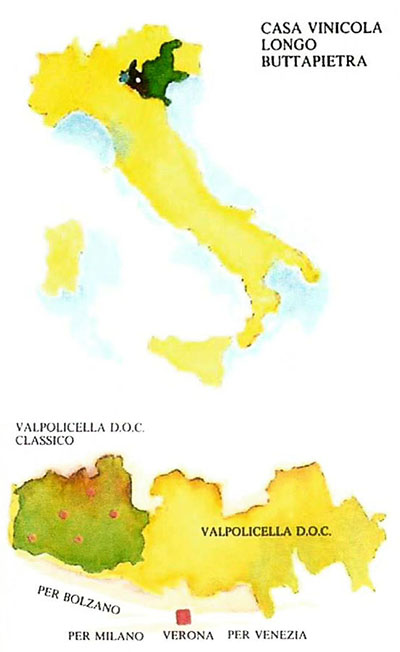 The writings of Cassis d'Oro show that the practice of selecting grapes and drying them on the "arele" in order to eventually obtain a particularly strong wine (then known as Acinatico) go back to the times of the Theodoric Ostrogothians. The present day name "Recioto" derives from the Venetian dialect for ear which comes from the custom of laying the wider part of the bunches of grapes on a mat, which in the "Recie".
Geographical area – Sloping hills of a prevalently chalky nature with some blackish basaltic rock.
Grapes – Corvina (55 – 70%), Rondinella ( 25 – 30%), Molinara (5 – 15%).
Color – An especially vivid garnet red.
Bouquet – Intense, heady and austere. A broad and complete bouquet.
Taste – Generous, warm and austere. Full-bodied, elegant and extraordinarily rich with nuances.
Ageing – After a prolonged oak-casking the "Recioto" becomes bitterish hence dry. After this the wine shows great resistance and even after many years it is a splendid wine.
Gastronomy – This is the great red wine of roasts, the bitterness suits even game and seasoned cheeses.
Serve at room temperature perhaps decanted in order to allow it to breath and eliminate the possible sediment. This wine deserves to be drunk from a good quality glass, even crystal, and it's subtle distraction to be enjoyed with a closed mouth.