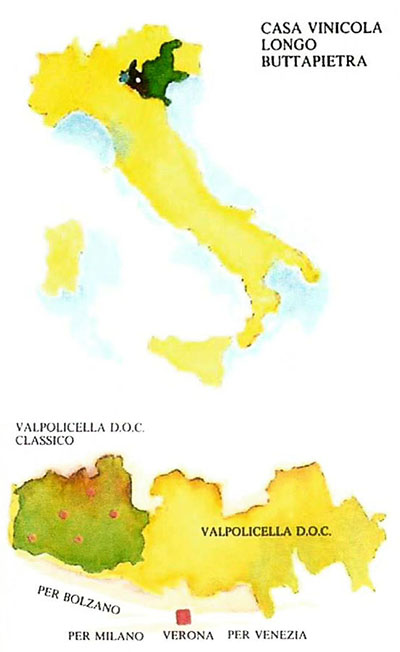 In the Roman ages the vineyards of the historical Valpolicella were already producing a wine that was at the time called "Retico". Amongst the many lovers of this wine Hemingway stands out, who in one of his novels described Valpolicella classico as "dry, red an cordial like the house that belongs to a brother whom one gets on well with.
Geographical area – sloping hills of a prevalently chalky nature with some blackish basaltic rock.
Grapes – Corvina (55-70%), Rondinella (25-30%) and Molinara (5-15%).
Colour – dark ruby red.
Bouquet – elegant scent of ripe fruit and spices with a light vanilla smell.
Taste – velvety and elegant, full – bodied, and pleasantly bitter.
Ageing – the bouquet of the wine is a at it's peack after a decent period in the cask. It matures within 1 – 2 years.
Food – ripening with age, it becomes an excellent accompaniment to pasta with meat sauce, roast rabbit, meats to the grill and poutry, young or lightly seasoned cheeses.
Let the wine breath before pouring at room temperature (18 degrees)