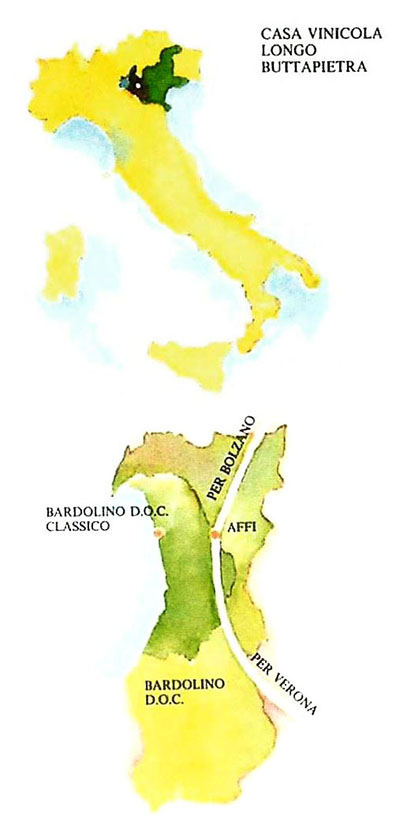 The origin of these grapes are known from seeds of grapes-vines discovered in the pile-dwellings that go back to the bronze age. This name Bardolino, however, was adopted at the beginning of this century and refers the small country village of the same name.
Geographical area – Morainic Hillocks in the area of Rissiano and Wurmano which are punctuated at intervals by gravelly glacial revered plains.
Grapes – Corvina (50 – 60%), Rondinella ( 10 – 30%), Molinara (10 – 20%) Negrara (up 10%).
Color – Bright, ruby red with a tendency towards an earthy colored appearance.
Bouquet – An elegant inviting wine.
Taste – Vivacious with a light, sapid body. This wine will not impede digestion and it is a wine that is pleasant to continue drinking.
Ageing – It is a typical red and should be drunk young. This wine can however, easily withstand 2 – 3 years of good preservation.
Gastronomy – This wine is considered ideal for all meals. In fact, it accompanies pasta and risotto just as well as all Italian starters likewise it is compatible with soups, white meat and roasts.
Serve at the temperature 12 -15 degrees